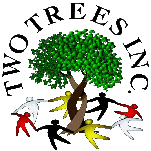 ---

---

---

---

---

---

---

---

---

---

---

---

---

---

---

---

---



a non-profit, charitable organization dedicated to
community empowerment and cultural bridging



Two Trees Inc. is a 501 (c) 3 charitable non-profit organization dedicated to community building and cultural bridging through: cultural exchanges; empowerment events and activities; and production of multi-media materials. It was also created to carry out the vision of Lakota Rose Madison, a 17-year-old Hunkpapa Lakota woman who was murdered before her vision of creating safe places for at-risk youth and having cultural exchanges could be realized. Two Trees, Inc. promotes models of service and methodologies of intercultural interaction that engage individuals and communities as pro-active agents in their own healing, especially those involved with youth recovery, wellness, and empowerment. Consequently, the "helping," "fixing," "rescuing," and "saving" approach is deconstructed and discouraged.

PEACE PLACES -- A Lakota Rose Madison® Peace Place is an autonomous entity with its own mission, but linked to other Lakota Rose Madison® Peace Places. Each Peace Place is a space (large building, room, classroom, home, etc.) where youth may go that is safe, drug, alcohol and gang-free.

THE MURAL PROJECT -- The World Through the Eyes of a Child -- The Culture of My Community Collaboration Arts Project is a platform for children and youth through an intergenerational artistic process to express the cultural values of their community that sustain them and build upon their assets.

EVENTS -- Since its inception, Two Trees Inc. has sponsored, co-sponsored and presented at many events involving education and cross-cultural collaboration. We provide help in organizing events that have to do with building healthy communities.

SERVICES -- We assist Lakota Rose Madison® Peace Places and members of the Lakota Rose Madison tiospaye with services such as counseling, data, presentations, help with grants, and resource links.

PUBLICATIONS -- We produce multi-media materials in written, video and audio form that promote community building and cultural bridges. The video, Tatanka Wijnyan, is available to groups who will use it to build healthy communities.

FUNDRAISING STORE -- We have several articles for sale including reproductions of original art. All proceeds from the sale of items in the store are used to further the activities of Two Trees Inc.
---
Two Trees, Inc. can assist groups, organizations and groups in setting up and
running community empowerment and cross-cultural events.